Match the right diamond jewelry to your outfit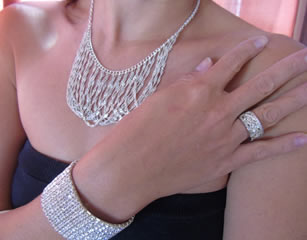 Diamond jewelry, whatever it is, is the dream of most women, and especially those who love beautiful jewelry, those who like to be elegant, glamorous and sparkling. It is an eye-catcher and the pride of all women who are lucky enough to wear one.
Bring a touch of luxury to your outfit with diamond jewelry
Some of us will say that only a diamond jewel makes you forget the outfit you wear. Even if diamond jewelry attracts all eyes, all desires and lusts, you still need to know how to match your outfit in order to put it forward. Whether it is a diamond bracelet, a diamond necklace or a diamond ring, it cannot be worn with anything and everything. It is true that diamonds normally go well with all outfits, but there are still some missteps that should not be made.
For example, you cannot wear a diamond necklace over a sweater, even if it is very chic. The rule of thumb for diamond necklaces is to wear them with a neckline. It can be a strapless dress or a small V top. It will attract attention and enhance your cleavage.
A diamond bracelet will, on the other hand, refine your wrist if you are wearing a tight top. It will also make an evening dress more elegant and bring a touch of femininity and glamor. The diamond pendant will beautifully dress the most classic outfits as the most surprising. A wedding ring, an engagement ring such as a diamond solitaire are quite versatile and easily adapt to all outfits, day and night. Just avoid overloading your hands. An engagement ring in harmony with an alliance will be more than enough to sublimate your hand. A white gold solitaire with a diamond will look stunning if you wear it alone.
Choose your outfit according to a diamond jewel
In most cases, you choose your outfit, then the jewelry you will wear with it. With diamond jewelry, it's different and even the opposite. Owning a gold and diamond jewel is exceptional and still quite rare. This is why, at the slightest opportunity that lends itself to it, we want to wear it at all costs.
We will therefore choose our outfit according to the jewel set with diamond that we have. If you have a diamond choker, you will have to choose an outfit with a low neckline. For a bracelet, and if you want it to be noticed, a top with the bare arm is ideal. The diamond ring, meanwhile, will be able to wear whatever outfit you have. In any case, it is not diamond jewelry that adapts to the outfit but the reverse, unlike costume jewelry and various accessories.
The diamond jewel is very easy to associate with an outfit of the moment if you know the mistakes to avoid.