How to offer her a luxury watch?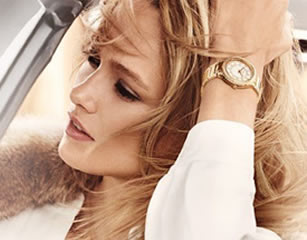 For her
Luxury watches for women are often made by well-known brands. The examples they present to us are diversified between the sophisticated, the tapered and the light going to various looks resembling those that men wear. Some companies exclusively make female models.
Before buying a luxury watch from a woman, you will need to consider the different options available such as jewelry watches or classic luxury watches. You will also need to know the style that appeals to this woman (you will be able to see it by the accessories and clothes she usually wears), this will give you good clues on the type of luxury watch that will best suit her. personal taste.
Also pay attention to the types of jewelry she is used to wearing, this will give you a good idea of ​​her style and personal taste. Finally, for a woman, a watch is one more piece of jewelry even if it is a functional piece of jewelry.
– Does she wear a lot or a little jewelry?
– Does she wear flashy or simple jewelry?
– Does she like gold or silver colors?
– Does she use jewelry set with precious stones? what color ?
The following tips may help you:
– For a woman over 50, a classic luxury watch in gold or silver set with small diamond inlays with a light bracelet will surely please her
– For a young woman, she can choose a jewel watch with sapphires or diamonds not too showy but delicate.
– For a young woman under 25, you can give her a more showy jewel watch with colored precious stones. But you have to make sure that she likes these type of accessories or that it matches the clothes that she is wearing.
If after these tips you are still not sure whether she likes the luxury watch, buy her a classic watch with diamonds or sapphires, you can be sure that she will be satisfied.
For him
It is an advantage for a woman to choose a watch for a man because she is more used to knowing accessories and fashion than the majority of men. If you are thinking about buying a luxury watch for a man, it is important to think about him, his personal tastes and what type of watch will best suit his character. A watch is an important addition for any man. You have to think about what type of watch will be most suitable for him, what type of person is he, if he is outgoing, reserved and what type of personal items does he appreciate?
First of all, think about his personality and his personal tastes …
– What colors does he like? intense or discreet?
– Is he athletic? a sporty man is used to having tastes in accordance with his lifestyle.
– Will he prefer a watch that "shows up" or a more discreet one? The answer will tell you if he prefers it with a large or small sphere.
– Does he like to attract attention or to be withdrawn?
A watch will always be one more element or addition to a man's wardrobe. The way you dress will also give you clues as to what type of watch might be right for her.
– Does he dress in a classic, modern or sporty way?
– Are his clothes conspicuous or discreet?
– Does he wear luxury clothes with a clearly visible brand or does he wear them discreetly?
These tips will give you clues to making the right present for your spouse or partner. If you are not yet sure of your choice, question him carefully so that he is not suspicious… For example, ask him to get his opinion and his contribution for the purchase of a watch for one of the members of his family.