Tips for wearing the head jewel well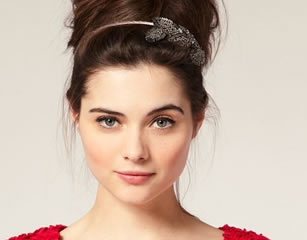 The head jewel is invading the catwalks and the magazines for several months now, the phenomenon Lana Del Ray has surely contributed to this new fashion of the headband or head jewel. In magazines and on the stars this hair accessory looks simple to put on and easy to wear and for all occasions.
To avoid spending hours in front of her mirror trying to redo a hairstyle seen in a photo, the creator of the Jewelry box gives some advice to be able to wear head jewelry simply and naturally. Tiphaine, who is the creator of the Jewelry box, has been producing handmade costume jewelry for several years as well as feminine and elegant head jewelry. It offers many models of head jewelry, more or less colorful and conspicuous. Here is a summary of what she advises to make you feel comfortable with a head jewel.
There are many ways to wear it, the easiest for her is to wear it as a headband, on tied hair, like a bun. The head jewelry will enhance the hairstyle without overdoing it. It can be worn in this way during the day or in the evening and will give an original and feminine side to a look without overdoing it. The designer recommends a discreet head jewel with light touches of color to brighten up the hairstyle.
The head jewel can be worn again on tied hair, but this time positioned at the level of the hairline. In this way it will highlight both the hairstyle and the face. When worn in this way it is much more visible, the designer recommends it for an evening or a ceremony, such as a wedding. A good way to wear it is to create a pretty crown braid near the forehead and add a fine head jewelry to it to sublimate the hairstyle.
For a summery and resolutely bohemian look, it can be worn in the middle of the forehead with loose hair, it will give a little hippie side which is very nice for an evening or on vacation. The designer advises here to play with shapes, volumes and colors and to wear a colored head jewel to add to the bohemian side.
Here are some of the main trends for wearing head jewelry and feeling good with it. The designer designs all of her models by hand. They all have a satin ribbon so they are easy to position and fasten and they are adjustable for any size of head circumference. The designer also makes tailor-made costume jewelry, all you have to do is request it by email.